---
SCHEDA TECNICA PREZZI E OFFERTE NOTIZIE
---
Apple iPhone 6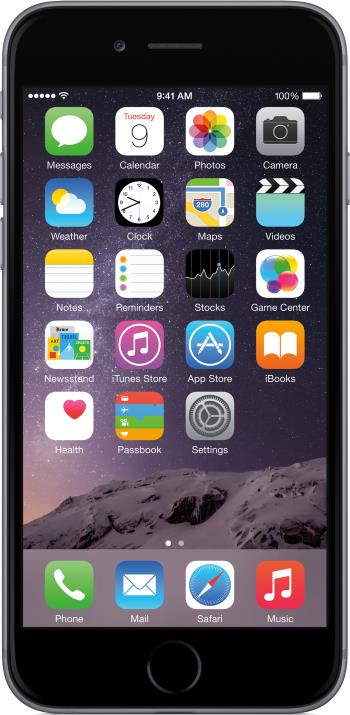 Apple iPhone 6 in breve
Apple iPhone 6 &egrave uno smartphone che utilizza iOS (8.0) con schermo piuttosto ampio da 4.70 pollici con risoluzione di 750 x 1134 pixel con un parametro di 326 Pixel per pollice (PPI).

La scocca misura 138 mm di altezza, 67 mm di larghezza, 7 mm di profondit&agrave e un peso pari a 129 grammi.

Potrete utilizzare 2 fotocamere dotati di ottiche da 8.00 Megapixel sul lato posteriore con fotografie da 3264 x 2448 pixel e supporto video per 1080p FullHD a 30 fps e da 1.20 Megapixel sul quello anteriore con risoluzione fotografica massima di 1280 x 960 pixel .

Il nuovo smartphone Apple iPhone 6 &egrave equipaggiato con processore Apple A8 64 bit a 20 nm, coprocessore M8 ed &egrave alimentato da una batteria Li-Ion con capacit&agrave di 1810 mah che garantisce una autonomia di 220 ore in stand by e 11 ore di utilizzo . unito a 1 GB di memoria ram e 16 Gb di memoria fissa.

Il nuovo Apple iPhone 6 presenta funzioni di connettivit&agrave NFC, Wifi di tipo 802.11 ac, dual band, hotspot WiFi, rete 3G/Hsdpa, e supporto rete 4G LTE .


---
Modelli simili Apple iPhone 6
---
Scheda tecnica Apple iPhone 6
Tutte le informazioni e gli aggiornamenti su Apple iPhone 6, con foto, video, informazioni su prezzi e offerte, anteprime e recensioni.
DESIGN, SCOCCA E DISPLAY
DIMENSIONE SCOCCA
138 x 67 x 7 mm
PESO CON BATTERIA
129 grammi
RISOLUZIONE MASSIMA
750x1134 pixel
DIMENSIONE DISPLAY
5 pollici
TIPO DISPLAY
RISOLUZIONE 4K
Non supportato
RISOLUZIONE PPI
326
FUNZIONI E SENSORI
Sensore di Prossimit&agrave:
✔ Si
Accelerometro
✔ Si
Bussola digitale
✘ No
Sensore Ambientale
✔ Si
Giroscopio
✔ Si
Barometro
✔ Si
Pressione
✘ No
Compasso Digitale
✘ No
TECNOLOGIE DI RETE E CONNETTIVITA'
DOPPIA SIM
✘ No
SISTEMA DI RETE
Quad Band Gsm (850/900/1800/1900)
LTE/4G
✔ Si
VELOCITA' 4G
Cat 4 150/50 Mbps
3G/HSDPA
✔ Si (di tipo 42 Mbps)
GPRS
✔ Si
EDGE
✔ Si
NFC
✔ Si
SISTEMA OPERATIVO
iOS
BATTERIA
AUTONOMIA STAND BY
220 ore
AUTONOMIA IN CONVERSAZIONE
11 ore
TIPO BATTERIA
Batteria Li-Ion
CAPIENZA BATTERIA
1810 mAh
ENERGIA STOCCATA
6.516 Wh
HARDWARE
PROCESSORE
Apple A8 64 bit a 20 nm, coprocessore M8, 1.40 Ghz
MEMORIA RAM
1 GB
MEMORIA INTERNA
16 GB
MicroUSB
✔ Si
CONNETTIVITA'
WI-FI
✔ Si
DLNA
HOTSPOT WIFI
WIFI DIRECT
BLUETOOTH
✔ Si
INFO BLUETOOTH
versione 4.0, standard A2DP, LE

AUDIO E MUSICA
RIPRODUZIONE VIDEO
Supporta formati video MPEG4, MOV, 3GP.
USCITA TV
✔ Si
USCITA HDMI
RIPRODUZIONE AUDIO
Supporta formati AAC (8 to 320 Kbps), Protected AAC (from iTunes Store), HE-AAC, MP3 (8 to 320 Kbps), MP3 VBR, Audible (formats 2, 3, 4, Audible Enhanced Audio, AAX, and AAX+), Apple Lossless, AIFF, WAV;
RADIO FM
✘ No
FOTOCAMERE
FOTOCAMERA PRINCIPALE
8 Megapixel con Flash di tipo led
RISOLUZIONE MASSIMA FOTO 3:2
3264 x 2448 pixel
FORMATI FOTO PRINCIPALI


Massima: 3464 x 2308 pixel
Media : 2449 x 1632 pixel
Bassa :1732 x 1154 pixel
FOTOCAMERA SECONDARIA
1.20 Megapixel
REGISTRAZIONE VIDEO
1080p FullHD a 30 fps
FACE DETECTION
Si
GPS E MAPPE
GPS / AGPS
✔ Si
GPS
Si
GLONASS
Si
I dati tecnici su Apple iPhone 6 sono forniti da Pianetacellulare. Fonte originale:
Pianetacellulare.it
. Dati forniti in licenza commerciale.